Mesotherapy Facial Treatment Near Harrow
Mesotherapy Treatment is a cosmetic technique that targets the connective tissue in the middle layer ('meso' means 'middle' in Greek) of the skin. Mesotherapy is not a new technique, it was originally established in France in the 1950s by Michel Pastor. It involves micro-injections of mesotherapy products into this layer of the skin which triggers the skin's healing and rejuvenation response.
Mesotherapy is one of the most popular cosmetic treatments available at Javaani Clinic. It is a highly effective rejuvenating treatment. It delivers vitamins, minerals, and hyaluronic acid directly into the skin to nourish and rejuvenate, promote the production of collagen and elastin, and stimulate metabolism. As our skin ages, circulation decreases, which results in a decrease in our body's ability to flush out toxins. This is what drives premature ageing and causes the skin to develop an ashen appearance. As a result of the Mesotherapy treatment procedure, we can expect the skin to look rested, radiant, glowing, and firmer.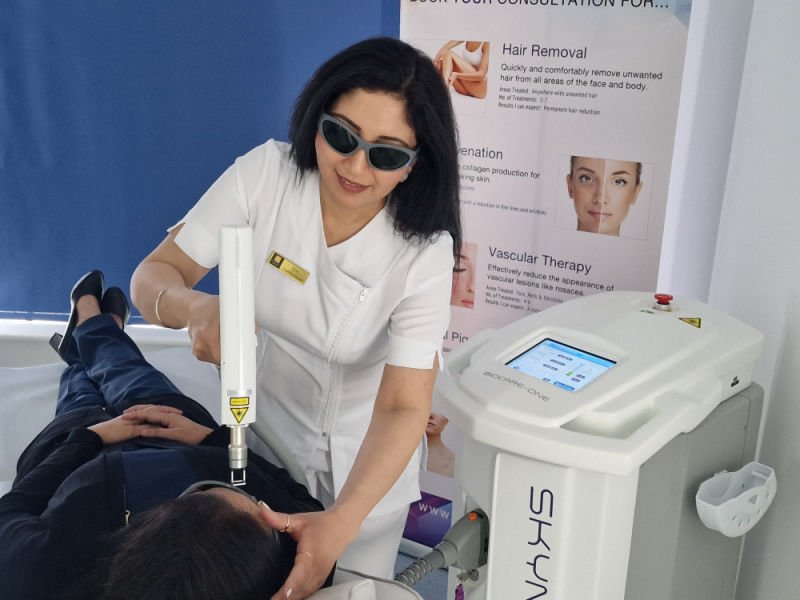 What our Clients say
For many people, especially if you are contemplating cosmetic treatment for the first time, or if you are unsure a particular treatment is for you, hearing feedback from our many delighted clients can be reassuring and helpful. 
Amanda Walters
2022-08-23
I went to Javaani for a HIFU face lift treatment. My experience was wonderful. The staff are really attentive and kind. The level of care here is top. I definitely recommend.
bhavanpreet johal
2022-08-08
I visited the clinic for the first time after a friend's recommendation to receive a hydra facial before my big day. Anu provided outstanding service and is incredibly friendly and bright. My skin has never felt better, and the treatment was carried out with care and patience. Undoubtedly, I'll return.
I had a hydrafacial at the Javaani Clinic for the second time. Really excellent service and treatment! Anu, who performed my treatment, was incredibly knowledgeable and kind. In addition to thoroughly explaining each step of the procedure, she also gathered information about my previous skin care regimen to tailor the treatment. My skin is glowing within. Looking forward to returning!
I am very satisfied with the Javaani Aesthetic Clinic. This is a different experience to what I have had before elsewhere. I was very pleased to experience this professional, educational, gentle approach from Javaani's practitioners. Before that, my experience with hair mesotherapy was very unpleasant and painful. At Javaani, it was proved to me that it can be a really enjoyable experience. Thank you. I'm coming back to finish the course.
My experience at Javaani Aesthetics has been phenomenal. The staff are welcoming, approachable and friendly which has left me feeling comfortable every time I have visited. I have had two sessions of PRP for hair loss, Dr Ahmed has conducted the procedures and regularly checked with me to ensure the procedure was comfortable. I also appreciated the information and aftercare guidance. I would highly recommend this Clinic.
I've had radio frequency and ultrasonic cavitation on my belly as I've lost some weight but my belly(mum belly) above my c section scar has been an issue. I'm so far amazed by the results- 3 more sessions to go. Thanks Shakeela for trying to give me a nice waistline!
Saida Bougrine
2022-06-07
I had Hifu treatment done by Anu I am very pleased with the results, Anu explained everything throughout the consultation and made me comfortable during the treatment I highly recommend javaani aesthetic clinic .
I had my first ever skinpen treatment here and loved it. Very comfortable and relaxing experience for me and lovely staff too. Thank you
Excellent treatments and fantastic customer service, each member of staff is professionally trained to the highest level, they make you feel young and youthful, highly recommend to everyone
Truthfully the best facial experience I've ever had. Therapist, Shakeela was very efficient, friendly and professional. Highly recommend. Will definitely be back!
Javaani Mesotherapy Treatment near Harrow
We use amazingly effective and well-known mesotherapy cocktails at Javaani. Our qualified, advanced therapists can assess your skin condition and advise you on the right combination of mesotherapy products.
Mesotherapy can be used anywhere on the body especially, the face, neck, decolletage, scalp (for hair loss) and hands. At Javaani we also offer professional treatments with special active ingredients that moisturise, rejuvenate, and reduce excess pigmentation in the intimate areas, achieving an improvement in skin texture and tone.
WHAT IS MESOTHERAPY USEFUL FOR?
Ageing Skin
Hyperpigmentation
Cellulite
Eye bags and dark eye circles
Flaccidity
Hair loss (thinning of hair)
Stretch marks
Acne marks
Acne prone skin
Mesotherapy Benefits
360-degree skin rejuvenation.
Fast results after receiving a mesotherapy treatment.
Treatment can be a specific as you need it to be, so you can choose one area at a time
Enhances skin firmness and elasticity.
Results in improved skin complexion and radiation.
Cellulite reduction
Safe for all skin types.
Pain Level
Mild with Topical Numbing
How long does mesotherapy last?
With a course of 6-8 weeks of mesotherapy treatments, patients can expect results to last 12 to 18 months after the recommended course of treatment is completed. For optimal results, we recommend patients continue treatments in order to maintain their desired appearance.
At what age should I start Mesotherapy?
The process of injecting amino acids, minerals, enzymes and vitamins into the middle layer of the skin with the help of needles (sometimes alone or mixed with each other), is called mesotherapy. Legally, mesotherapy can be applied to all healthy individuals over the age of 18.
What skin conditions can be treated with Mesotherapy?
It can treat a plethora of skin conditions including fine lines, wrinkles, stretch marks, uneven skin tone, pigmentation, melasma and much more.
Does Mesotherapy make you look younger?
Mesotherapy is a minimally invasive procedure that nourishes and rejuvenates the skin. This is a procedure that has instant results, rejuvenating dull and tired-looking skin, as well as reducing the appearance of superficial wrinkles, because of the increase in collagen and elastin. This can help to reduce the signs of ageing, making you look younger and more vibrant.
In addition, mesotherapy can improve the blood circulation in your skin, which helps to remove any toxins that could be building up. Removing these will also help to bring vibrance to your skin, as well as much-needed nourishment. This will also help to reduce the signs of ageing, resulting in younger-looking skin. Mesotherapy can also be very effective for tackling pigmentation issues and treating acne scarring.
How many times should I do Mesotherapy?
The number of mesotherapy sessions you will require for your face depends on the skin condition that you want to treat. The treatment works with a cumulative effect, so Dr Ahmad usually recommends between 6 and 8 sessions 1 to 2 weeks apart in order to achieve your desired results. Having said that it's not unusual to see significant results just after only one session.
Are there any side effects to mesotherapy?
Mild redness and irritation can be experienced after the treatment. This is well managed by using recommended skin products.
What is the cost of mesotherapy?
Is Mesotherapy Safe?
Yes, it is safe for all skin types.
What should I avoid after mesotherapy?
After mesotherapy, it is important to take proper care of the treated area to avoid any complications and maximize the effectiveness of the treatment. Here are some things you should avoid after mesotherapy:
Avoid touching or rubbing the treated area for at least 24-48 hours after mesotherapy. This can help prevent infection and irritation.
Avoid prolonged direct sunlight for at least a week after mesotherapy. This can help prevent hyperpigmentation.
Avoid applying makeup or skincare products to the treated area for at least 24-48 hours after mesotherapy.
Avoid strenuous activities for at least 24-48 hours after mesotherapy.
Avoid consuming alcohol for at least 24 hours after mesotherapy.
Avoid blood-thinning supplements for at least a week after mesotherapy. Consult your doctor if you are taking prescribed blood thinners.
Avoid swimming, sauna, steam room and sun bed for 72 hours after treatment.
Avoid hot showers for 48 hours
Who is not suitable for mesotherapy?
Mesotherapy should be avoided:
If you are pregnant or breastfeeding.
If you have an active skin infection or condition, such as eczema, psoriasis, or acne, you may need to wait until the condition is resolved before undergoing mesotherapy.
If you have a blood clotting disorder or are taking blood-thinning medications, mesotherapy may increase the risk of bleeding and bruising.
If you have an autoimmune disorder, such as lupus or rheumatoid arthritis, mesotherapy may cause a flare-up of symptoms.
If you have a history of keloid or hypertrophic scars or poor wound healing.
If you have used Accutane (isotretinoin) within the last three months.
If you have open wounds, cuts or abrasions on the treated area.
If you have a history of cancer or are undergoing cancer treatment.
It is important to discuss your medical history and any medications or supplements you are taking with your doctor before undergoing mesotherapy to ensure that it is safe and appropriate for you.
What should I avoid before mesotherapy?
It is important to avoid certain medications and substances before mesotherapy to minimize the risk of complications.
Drugs like aspirin, ibuprofen, and warfarin can increase the risk of bleeding and bruising after the procedure. Avoid taking these medications for at least a week before your mesotherapy appointment. Consult your doctor if you are taking prescription medicines such as a blood thinner.
Avoid consuming alcohol for at least 24 hours before your mesotherapy appointment, as it can increase the risk of bleeding and bruising.
Avoid using topical or oral retinoids for at least a week before your mesotherapy appointment, as they can increase skin sensitivity and increase the risk of irritation.
Some herbal supplements, such as ginkgo biloba and garlic, can increase the risk of bleeding and bruising. Avoid taking these supplements for at least a week before your mesotherapy appointment.
Avoid excessive sun exposure and tanning for at least a week before your mesotherapy appointment, as it can increase skin sensitivity and increase the risk of irritation.
It is essential to discuss any medications or supplements you are taking with your doctor before mesotherapy to ensure that you are taking appropriate precautions and minimising any potential risks.

Gini P
Jan 27, 2023
Amazing experience as always.
Very friendly and professional staff/doctor.
Swathi A
Jan 27, 2023
It has been a great experience for me. Anu has taken lovely care and I recommend Javaani clinic to my friends.
Anna
Dec 10, 2022
The treatment was fantastic! Very professional and friendly. I would recommend this place to anyone!