IPL Laser Face Rejuvenation Buckinghamshire
Biocare-one is the ultimate IPL laser face rejuvenation system. It combines three major technologies, IPL, Nd: YAG, and Er: Glass. This IPL laser technology enables us to find solutions to all your skin concerns with the assurance of being treated by a qualified team of professionals led by Dr Ahmad. We bring the best technologies to you to deliver the best possible results.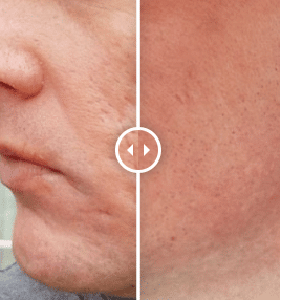 IPL Acne Scar Treatment
IPL is a gentle treatment for inflammatory acne that eliminates bacteria within pores, improves skin appearance and reduces acne, while at the same time treating the redness, excessive oil production and pigmentation of the skin.
Facial Resurfacing
Unlike Er: YAG and CO2 lasers that deliver ablative wavelengths, our Er: Glass uses a 1540nm wavelength which has a greater depth of penetration and a slightly lower water absorption level, which means non-ablative treatments that stimulate a dramatic remodelling of the dermis and epidermis without the pain and downtime associate with ablative lasers. Although non-ablative lasers typically require more treatment sessions than ablative, the greater level of comfort, zero downtime and lower risk make the treatments well-received by a larger group of clients.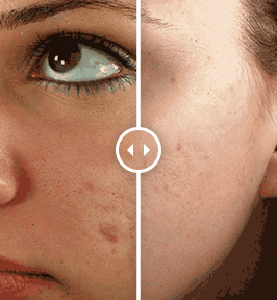 Vascular Treatment
The IPL can be used to treat thread veins, facial veins, telangiectasias, and fine capillaries. The IPL creates heat inside the blood vessels, which closes the vein's walls, eventually causing the vein to disappear.
Rosacea Treatment
The IPL technology treats Rosacea symptoms such as flushing, redness and visible blood vessels, as well as improving the overall appearance of your skin by stimulating collagen and elastin production.
Photo Rejuvenation
Photo rejuvenation is used to address pigmentation, age/sunspots, freckles, broken capillaries, and overall skin appearance. IPL-Laser technology allows for treatment of pigmentation and vascular imperfections, while improving overall skin appearance.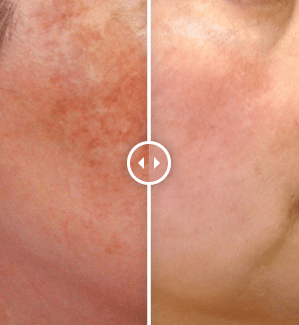 IPL Laser Face Rejuvenation FAQS
Whats involved in IPL
IPL is also referred to as Intense Pulsed Light therapy. This is because it employs high-energy light pulses into the upper layers of skin. When these pulses of light are applied to the skin with a handheld device, they are briefly absorbed by two of the body's own natural chemicals: melanin and haemoglobin and produce heat. Melanin is found naturally in pigmented areas, whereas haemoglobin is found in red blood cells. Because this light is precisely controlled, it carries just the correct amount of energy to remove any targets, such as pigmentation or sun damage, while causing no harm to surrounding tissue
Depending on the depth of the heat, IPL works to break up pigment and melanin (which is responsible for pigmentation, discolouration, and age spots, collapses the walls of spider veins, or kills the hair follicles). This heat additionally stimulates the body to produce collagen, making the treated area firmer. Additionally, rosacea, acne scars, stretch marks, fine lines, and wrinkles can all be improved. This is because IPL will remove impurities like broken veins and capillaries, smooth out a mottled complexion, increase collagen production for younger-looking skin, and remove years from a tired face.
Javaani Clinic for IPL-Laser Face Rejuvenation, High Wycombe Buckinghamshire
Are the results long-lasting?
The specific type of your IPL treatment will determine this. Following an IPL treatment, treated skin will continue producing new collagen for a period of about six months, generally, IPL delivers permanent results, permanently saying goodbye to age spots and other surface discolouration. Maintenance treatments may be necessary to achieve the greatest results.
Are there any side effects?
Scabbing, mild swelling, and redness are common side effects of IPL treatments, but they all fade fast. You may also notice that the treated region feels like it is radiating heat, like a mild sunburn. Sensitive or fair skin may experience transitory hyperpigmentation (the appearance of mild freckling and/or discolouration). This is not a cause for concern and is a totally normal reaction to IPL. This will also go away within 24-48 hrs of treatment. Any pigment that is broken down by the heat may rise to the skin's surface, causing scabs, crusts, and possibly peeling. Within 7-10 days, this will naturally heal or fall off.
IPL-Laser Face Rejuvenation at Javaani Clinic, High Wycombe Buckinghamshire
What to expect at your IPL Treatment appointment?
During your initial consultation, we will examine your skin to determine the origin of the problem and what areas you would like to have treated. Our skincare experts will then advise you on the best treatment strategy for you. A skin patch test will be required, we cannot treat you unless you have this, even if you have undergone previous laser or IPL skin rejuvenation treatments elsewhere.
We will go over any pre-treatment care with you at your initial IPL skin rejuvenation consultation. This includes avoiding sun exposure both before and after treatment. Please inform us of any upcoming holidays during your consultation so we can schedule your appointment around them.
To begin, we prepare the skin for the pre-treatment by gently cleaning to remove any dirt or makeup. We will then apply a room temperature gel to your skin while protecting your eyes with goggles.
Treatment will be relatively pain-free once it begins. Most of our IPL or laser skin treatment clients describe the sensation as feeling like an elastic band snapping on their skin. Any discomfort is brief and is followed by a sense of warmth. Our IPL and laser specialists will be on hand to reassure you throughout the procedure, so be assured that you are in the hands of thoroughly trained professionals.
What our Clients say
For many people, especially if you are contemplating cosmetic treatment for the first time, or if you are unsure a particular treatment is for you, hearing feedback from our many delighted clients can be reassuring and helpful. 
Gini P
Jan 27, 2023
Amazing experience as always.
Very friendly and professional staff/doctor.
Swathi A
Jan 27, 2023
It has been a great experience for me. Anu has taken lovely care and I recommend Javaani clinic to my friends.
Anna
Dec 10, 2022
The treatment was fantastic! Very professional and friendly. I would recommend this place to anyone!