SkinPen® Microneedling 
At Javaani we use a patented microneedle disposable cartridge with 14 state-of-the-art smooth Japanese needles in the cartridge tip for microneedling treatment. These fine needles puncture the skin in a minimally invasive way. This stimulates the skin's healing process, causing it to produce collagen and elastin. Collagen and elastin make up the support structure of the skin, so the boosted production helps improve the appearance of scars and wrinkles. We use SkinPen® in our clinics.
The SkinPen® Advantage (microneedling)
FDA CLEARED Microneedling Pen
CE Mark medical grade registration provides practices in Europe with a safe, reliable, and effective device compliant and certified to ISO & BSI standard
Laboratory Tested and Validated to prevent the risk of cross contamination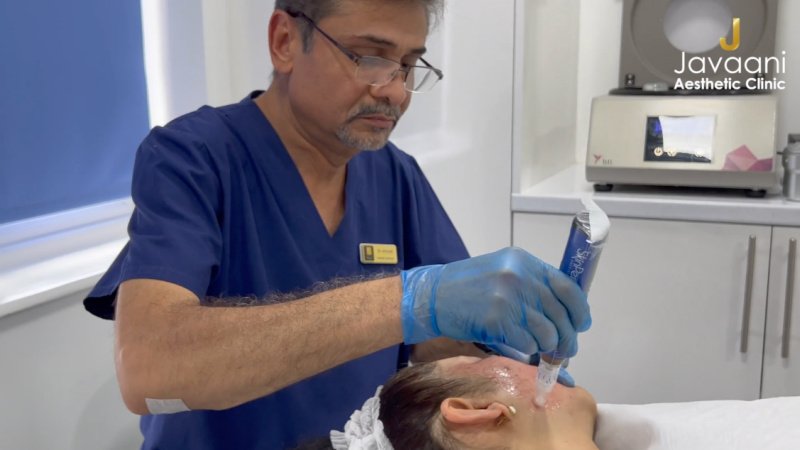 What our Clients say
For many people, especially if you are contemplating cosmetic treatment for the first time, or if you are unsure a particular treatment is for you, hearing feedback from our many delighted clients can be reassuring and helpful. 
Amanda Walters
2022-08-23
I went to Javaani for a HIFU face lift treatment. My experience was wonderful. The staff are really attentive and kind. The level of care here is top. I definitely recommend.
bhavanpreet johal
2022-08-08
I visited the clinic for the first time after a friend's recommendation to receive a hydra facial before my big day. Anu provided outstanding service and is incredibly friendly and bright. My skin has never felt better, and the treatment was carried out with care and patience. Undoubtedly, I'll return.
I had a hydrafacial at the Javaani Clinic for the second time. Really excellent service and treatment! Anu, who performed my treatment, was incredibly knowledgeable and kind. In addition to thoroughly explaining each step of the procedure, she also gathered information about my previous skin care regimen to tailor the treatment. My skin is glowing within. Looking forward to returning!
I am very satisfied with the Javaani Aesthetic Clinic. This is a different experience to what I have had before elsewhere. I was very pleased to experience this professional, educational, gentle approach from Javaani's practitioners. Before that, my experience with hair mesotherapy was very unpleasant and painful. At Javaani, it was proved to me that it can be a really enjoyable experience. Thank you. I'm coming back to finish the course.
My experience at Javaani Aesthetics has been phenomenal. The staff are welcoming, approachable and friendly which has left me feeling comfortable every time I have visited. I have had two sessions of PRP for hair loss, Dr Ahmed has conducted the procedures and regularly checked with me to ensure the procedure was comfortable. I also appreciated the information and aftercare guidance. I would highly recommend this Clinic.
I've had radio frequency and ultrasonic cavitation on my belly as I've lost some weight but my belly(mum belly) above my c section scar has been an issue. I'm so far amazed by the results- 3 more sessions to go. Thanks Shakeela for trying to give me a nice waistline!
Saida Bougrine
2022-06-07
I had Hifu treatment done by Anu I am very pleased with the results, Anu explained everything throughout the consultation and made me comfortable during the treatment I highly recommend javaani aesthetic clinic .
I had my first ever skinpen treatment here and loved it. Very comfortable and relaxing experience for me and lovely staff too. Thank you
Excellent treatments and fantastic customer service, each member of staff is professionally trained to the highest level, they make you feel young and youthful, highly recommend to everyone
Truthfully the best facial experience I've ever had. Therapist, Shakeela was very efficient, friendly and professional. Highly recommend. Will definitely be back!
Pain Level
Mild with Topical Numbing
SkinPen® Microneedling FAQS
WHAT SKIN CONDITION DOES SKINPEN® MICRONEEDLING TREAT?
Ageing
Wrinkles
Scars
Melasma
Neck Wrinkles
WHY SKINPEN® MICRONEEDLING?
SkinPen gives your skin the reset that it needs. Experience radiant results in as little as three treatment sessions!
SkinPen results have been graded based on the G.Lemperle Wrinkle Assessment Scale, the Clinician's Global Aesthetic Improvement Scale (CGAIS), and the Subject Global Aesthetic Improvement Scale (GAIS). The research is clear.
94% of patients noticed an improvement in how their fine lines and wrinkles looked at one-month post-treatment.
80% of patients said they noticed an improvement in acne scars in the treated area at one-month post-treatment.
90% of patients said they would recommend SkinPen treatment to family and friends at one-month post-treatment.
WHAT SHOULD I EXPECT DURING SKINPEN® MICRONEEDLING?
After cleansing you will have a numbing cream applied to your skin to help you stay relaxed and comfortable during the procedure. SkinPen is then rolled over your skin. The needles penetrate the upper layer of skin. The skin develops redness and slight pin prick bleeding during the procedure and this is the end result of the treatment we aim for. After the procedure is complete, a serum is applied to the treatment area to help the skin heal and provide hydration.
CAN MICRONEEDLING BE PERFORMED ON ALL SKIN TYPES?
Yes. It is a safe procedure for all skin types.
WHO SHOULD AVOID THIS PROCEDURE?
Pregnant or breastfeeding should postpone treatment. The final suitability shall be assessed at the consultation before the procedure
IS MICRONEEDLING SAFE?
Like other skin procedures, there is a risk of post-operative infection, but it is very small. The pin-pricks created by the microneedling device close within an hour of the procedure, so, as long as the work is done in a hygienic setting, the odds of infection are incredibly small.
WHAT SHOULD ONE AVOID APPLYING ON THE SKIN AFTER THE TREATMENT?
Retinol, Glycolic acid, active or acidic ingredients should be avoided after the treatment.
ARE THERE ANY SIDE EFFECTS OF THE SKINPEN® MICRONEEDLING TREATMENT?
Patients might experience skin dryness, redness, and scaling that may last for a few days. Slight chances of mild bruising which settles in a couple of days.
WHAT WILL I LOOK LIKE AFTER THE PROCEDURE?
Some redness is normal immediately after the procedure, but it fades quickly. By 48 hours after the microneedling process, the skin should return to normal.
HOW MUCH IS SKINPEN® MICRONEEDLING?

Gini P
Jan 27, 2023
Amazing experience as always.
Very friendly and professional staff/doctor.
Swathi A
Jan 27, 2023
It has been a great experience for me. Anu has taken lovely care and I recommend Javaani clinic to my friends.
Anna
Dec 10, 2022
The treatment was fantastic! Very professional and friendly. I would recommend this place to anyone!