Ultrasound Guided Injections Buckinghamshire
Clinic in Hazlemere, High Wycombe Buckinghamshire
BOOK HERE
Ultrasound Guided Injections Buckinghamshire
Private treatment for fast pain relief
Javaani now offers a one-stop solution for same-day ultrasound-guided injections through our Joint care clinic.  We are committed to providing a practical and cost-effective pain relief solution.
Access to fast pain-relieving injections does not require a referral from a doctor. Our clinicians have vast experience in both the public and private sectors.
Before administering an ultrasound-guided injection, your clinician will perform a comprehensive evaluation, including a diagnostic ultrasound scan, during a single appointment.
We offer a comfortable and painless ultrasound performed by consultant doctors. We offer expert quality care and advice in our modern clinic.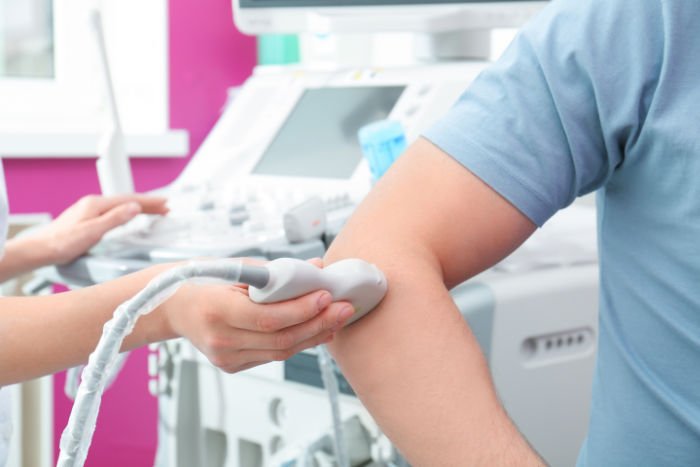 What our Clients say
For many people, especially if you are contemplating cosmetic treatment for the first time, or if you are unsure a particular treatment is for you, hearing feedback from our many delighted clients can be reassuring and helpful. 
Amanda Walters
2022-08-23
I went to Javaani for a HIFU face lift treatment. My experience was wonderful. The staff are really attentive and kind. The level of care here is top. I definitely recommend.
bhavanpreet johal
2022-08-08
I visited the clinic for the first time after a friend's recommendation to receive a hydra facial before my big day. Anu provided outstanding service and is incredibly friendly and bright. My skin has never felt better, and the treatment was carried out with care and patience. Undoubtedly, I'll return.
I had a hydrafacial at the Javaani Clinic for the second time. Really excellent service and treatment! Anu, who performed my treatment, was incredibly knowledgeable and kind. In addition to thoroughly explaining each step of the procedure, she also gathered information about my previous skin care regimen to tailor the treatment. My skin is glowing within. Looking forward to returning!
I am very satisfied with the Javaani Aesthetic Clinic. This is a different experience to what I have had before elsewhere. I was very pleased to experience this professional, educational, gentle approach from Javaani's practitioners. Before that, my experience with hair mesotherapy was very unpleasant and painful. At Javaani, it was proved to me that it can be a really enjoyable experience. Thank you. I'm coming back to finish the course.
My experience at Javaani Aesthetics has been phenomenal. The staff are welcoming, approachable and friendly which has left me feeling comfortable every time I have visited. I have had two sessions of PRP for hair loss, Dr Ahmed has conducted the procedures and regularly checked with me to ensure the procedure was comfortable. I also appreciated the information and aftercare guidance. I would highly recommend this Clinic.
I've had radio frequency and ultrasonic cavitation on my belly as I've lost some weight but my belly(mum belly) above my c section scar has been an issue. I'm so far amazed by the results- 3 more sessions to go. Thanks Shakeela for trying to give me a nice waistline!
Saida Bougrine
2022-06-07
I had Hifu treatment done by Anu I am very pleased with the results, Anu explained everything throughout the consultation and made me comfortable during the treatment I highly recommend javaani aesthetic clinic .
I had my first ever skinpen treatment here and loved it. Very comfortable and relaxing experience for me and lovely staff too. Thank you
Excellent treatments and fantastic customer service, each member of staff is professionally trained to the highest level, they make you feel young and youthful, highly recommend to everyone
Truthfully the best facial experience I've ever had. Therapist, Shakeela was very efficient, friendly and professional. Highly recommend. Will definitely be back!
Pain Level
Mild with Topical Numbing
Ultrasound Guided Injections FAQS
COMMON CONDITIONS TREATED WITH ULTRASOUND GUIDED INJECTIONS?
Ultrasound images are typically used to help diagnose:
– Shoulder: Tendon tears or inflammation/tendinitis of the rotator cuff in the shoulder. Calcific tendinitis.
– Elbow – Tennis elbow, Golfer's elbow- inflammation of the tendons, bursitis, muscle and tendon tears.
– Wrist and Hand: Wrist and hand tendons and tendon sheaths to diagnose tenosynovitis as De Quervain tenosynovitis, Ganglion cysts and small joint arthritis. Flexor, extensor Finger tendon tears and trigger finger Helps to identify Carpal tunnel syndrome-related structural abnormalities.
– Hip: Trochanteric bursitis, Tendinosis and joint effusion including arthritis. Sportsman hernia, Groin pain.
– Knee: Knee tendons as rupture or inflammation. Joint effusion, Ligament tears and arthritis.
– Ankle: Achilles tendon tear/inflammation, Tennis leg and other tendons in the ankle. Tenosynovitis of ankle and foot tendons.
– Foot: Plantar Fasciitis, Morton's neuroma, bursitis or metatarsalgia.
– Muscle tears, masses, or fluid collections.
– Ligament sprains or tears.
– Early changes of rheumatoid arthritis.
– Nerve entrapments such as carpal tunnel syndrome or ulnar neuritis.
– Benign and malignant soft tissue tumours.
– Ganglion cysts.
– Hernias (Abdominal, inguinal and muscle hernias).
– Foreign bodies in the soft tissues (such as splinters or glass).
– Soft tissue masses (lumps/bumps).
Interested in Ultrasound-Guided Injections in Buckinghamshire? contact Javaani Clinic here
ADVANTAGES OF ULTRASOUND GUIDED INJECTIONS?
There is a significant body of research which demonstrates that ultrasound-guided injections give better outcomes such as improved levels of pain relief, longer-lasting benefits, and improved post-injection function of the injected area, compared with injections that are done without ultrasound guidance (e.g.blind/surface marked injections).
There is also growing evidence that guiding the injection reduces the risk of trauma to local tissues or misplacement of the needle and/or the injection substance. This improves the safety of the injection and reduces the risk of adverse events associated with injection therapy. Because the location of the injection is more precisely known it reduces the chances of having unnecessary injections.
Many patients find ultrasound-guided injections to be more comfortable as often the required depth of the injection can be reduced
Benefits of ultrasound-guided injection
Ultrasound scanning is non-invasive and painless (no needles or injections).
Ultrasound imaging is extremely safe and does not use X- radiation.
Occasionally, an ultrasound exam may be temporarily uncomfortable, but it should not be painful.
Ultrasound is widely available, easy to use, and less expensive than most other imaging methods.
Ultrasound scanning gives a clear picture of soft tissues that do not show up well on x-ray images.
Ultrasound provides real-time imaging. This makes it a good tool for guiding minimally invasive procedures such as needle biopsies, fluid aspiration, and treatment of tendon inflammations.
Patients with certain cardiac pacemakers and metallic implants or fragments in the body often cannot be safely exposed to the strong magnetic field of magnetic resonance imaging (MRI); however, patients can safely receive ultrasound imaging.
Ultrasound is also an excellent alternative to MRI for claustrophobic patients.
Compared to MRI, ultrasound may provide greater internal detail when assessing soft tissue structures such as tendons and nerves.
The unique ability to capture real-time images gives ultrasound an edge to see the dynamic movement of tendons, joints or an extremity.
Ultrasound imaging is faster than MRI and does not require the patient to remain completely still, allowing infants to be imaged without sedation.
Get in touch for Ultrasound-Guided Injections in Buckinghamshire
HOW LONG WILL THE ULTRASOUND GUIDED CORTICOSTEROID INJECTIONS LAST?
This will depend upon a number of factors including the nature and severity of the problem for which you are having the injection. Sometimes there is no improvement but the longer lasting less soluble steroids can be effective for many months. It is important you listen to the advice of your physiotherapist and continue with the exercise programme and make any lifestyle changes he or she recommends.
WHAT PREPARATION DO I NEED FOR A MUSCULOSKELETAL ULTRASOUND?
No specific pre-test special preparation is needed. You can leave jewellery at home and wear loose, comfortable clothing. You may be asked to wear a gown.