You use the muscles of your face to show your emotions, from laughter to concern. But each time you smile, frown, or furrow your brows, your skin folds in the same places – around the eyes and mouth, at the bridge of nose, between the eyebrows and neck bands. Over time, these folds become wrinkles and fine lines that can make you look older, sad, angry, or tired, even when your face is at rest.
This treatment reduces the appearance of wrinkles between the brows, on the forehead, and around the eyes that are caused by repeated movement of facial muscles over time.
Though it's normal of wrinkles to appear with age, they make one look old and tired. These wrinkles usually appear around the eyes and mouth, at the bridge of nose, between the eyebrows and neck. Fortunately, botulinum toxin can be used to treat this condition. Many people opt for this treatment wherein botulinum toxin shots are injected right into the areas of concern. These injections cause the facial muscles to relax thereby reducing wrinkles that appear on the face over time.
Benefits
Wrinkle reduction
Fresher appearance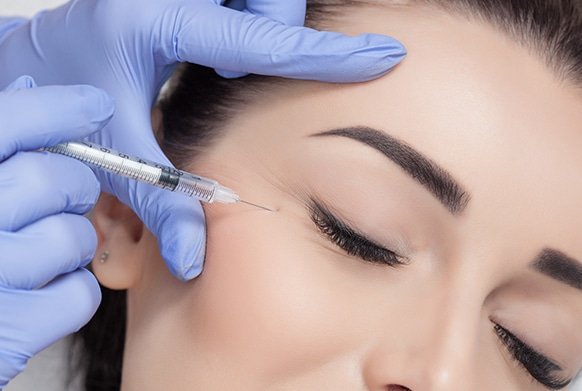 Treatment Summary
Procedure Time
Variable according to the number of areas being treated
Duration of results
3-4 months
FAQs
Everyone. However, it should be avoided in cases of a skin infection, allergies, and chronic disease affecting the muscles.
It can cause mild pain and skin tenderness. Rarely can cause small bruise at the site of injection.
Book A Free Consultation Call Now
Find out more about our treatments and get personalised recommendation for you.
No obligations & no commitment required.